Lobby Card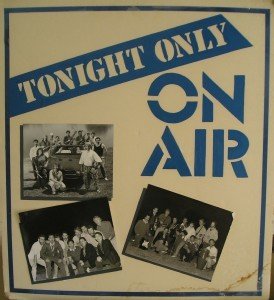 I think we used this twice!
Scary Pose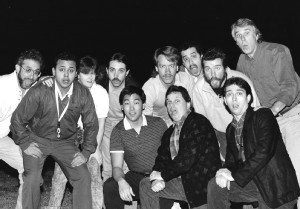 Why On Air chose to stage this gag photo is unknown. Back row from left: Bruce Patt, Chris Guerrero, Elaine Lord, Rick Gray, Robert Sprague, Ken Billeci, Greg Evans, and Bob Lang. Kneeling: Brian Nakagawa, Vahan Kachadorian, and Mike Compton. In 1988, the original rhythm section dissolved and during the next couple of years, several of the horns departed as well. On Air was entering a new phase and the personnel would eventually stabilize with the addition of long-term members. Ken and Elaine stayed for several years and Vahan continues today.
Brian's Got The Moves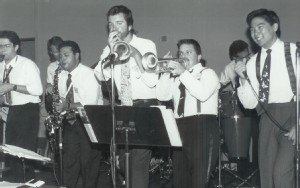 Bob, Ken, and Vahan were the primary On Air vocalists, but Brian's rendition of James Brown's "I Got You" was always fun for the dancers. L-R: Mike Compton, Chris Guerrero, Greg Evans, Vahan Kachadorian, and Brian Nakagawa. Partially hidden are Robert Sprague and Bruce Patt.
Ken and Bob

Ken and Bob sing in front of the horn section.
T-Shirts

The horn section sports T-shirts with the brand new On Air logo during a concert at the Dixon Fairgrounds. L-R: Mike Compton, Chris Guerrero, Greg Evans, Vahan Kachadorian, Brian Nakagawa, John Weir."