Before On Air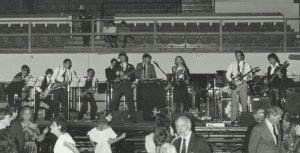 In early 1985, the band entertained at a fashion show/benefit in the almost-completed original Arco Arena on North Market Street in the Natomas area, the temporary home to the new Sacramento Kings who were just moving from Kansas City. Since this was the first event held there, the group was the first band ever to perform at Arco! Several future members of On Air can be seen on the stage. L-R: Brian Nakagawa, Mike Compton, Chris Curtis, Bill Gee, Jim Cosentino (partially hidden), Bob Lang, Ray Nelson, Janet Wilde, Brian Cutler, Rex Dayton. Brian, Mike, Chris, Bob, and Rex became future members of On Air, although Chris departed quickly. Still, he left his mark: he was responsible for naming the group, inspired by the on air lamp above the studio door at the television station where Bob was employed.
The Band Forms
The earliest configuration of the newly formed On Air.  Back row from left: Barry Ghezzi, Greg Evans, Hal Tinker.  Second row: Bob Lang (crouching), Michael Haviland.  Third row: Brian Nakagawa, Dennis Rasmussen, Jeff Stephens.  Bottom row: Chris Curtis, Thor Berke, Rex Dayton.  Jeff, Thor, and Rex performed together in a group called the Dial-Tones prior to joining On Air.
The Beaux Arts Ball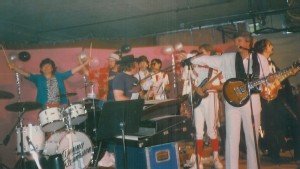 Bob introduces Dennis at a performance at the annual Beaux Arts Ball in the fall of 1985.  Bob and Dennis were college mates in the mid-'60s.
The Band Grows
On Air's horn section quickly grew to seven members and the rhythm section added a percussionist.  Bob, Rex, and Jeff handled the vocals.  Back row: Bob Lang.  Middle row from left: Bruce Patt, Jeff Stephens, Bruce Turley, Greg Evans, Rex Dayton, Michael Haviland, Thor Berke.  Bottom row: Hal Tinker, Bill Marelich, Mike Compton, Brian Nakagawa, and John Weir.
Lounge Lizard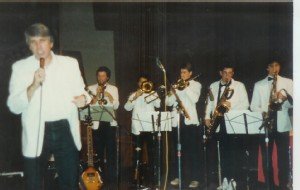 Bob and the horn section performing "Mack the Knife."
The First "Outfit"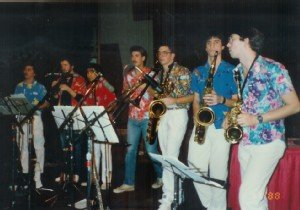 On Air decided it needed to look more like a band…so the group started wearing Hawaiian shirts!  L-R: Michael Haviland, Greg Evans, Brian Nakagawa, John Weir, Bill Marelich, Hal Tinker, and Mike Compton.