30-Year Reunion

In 2015, On Air invited former members to return for a second reunion concert at the Laguna Town Hall Amphitheater. A dozen alumni including the entire horn section from the first band from the mid-80s joined the current band for a memorable evening.
The Reunion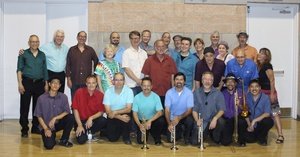 Standing, L-R: Bruce Patt (percussion), Bob Lang (guitar, vocals), Bill Marelich (tenor sax), Elaine Lord (drums), John Brenneise (keyboards), Robert Sprague (bass), Tony Oddo, (bass), Tim Stephenson (lead guitar, bass), Johnny DuVall (drums), Kevin Coughlin (drums), Raul Sandoval (tenor sax), Suzanne Weissenberg (vocals), Ken Billeci (lead guitar, vocals), Hal Tinker (tenor sax), Katie Matthew (alto sax), John Chermesino (bass, vocals), John Weir (trombone), Margie Stratfill (vocals). Kneeling, L-R: Brad Tom (bari sax), Eric Dahm (keyboards), Mike Compton (alto sax, arranger), Vahan Kachadorian (trumpet, vocals), Michael Haviland (trumpet), Greg Evans (trumpet, arranger), Brian Nakagawa (trombone), Craig Yamamoto (tenor sax).
Afternoon Rehearsal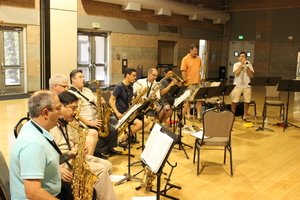 L-R: Mike Compton, Craig Yamamoto, Hal Tinker, Raul Sandoval, Brad Tom, Bill Marelich, Brian Nakagawa, John Weir, Michael Haviland.
Drummers Bruce Patt, Johnny Duvall, and Kevin Coughlin.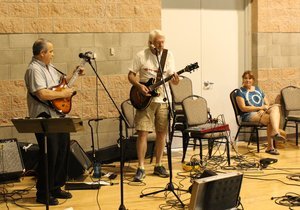 Ken Billeci, Bob Lang, and Suzanne Weissenberg.