The Next "Outfit"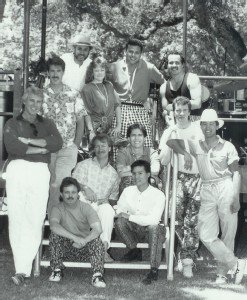 In the early '90s, On Air decided to freshen its stage appearance…with balloon pants! Standing, L-R: Bob Lang, John Weir, Bruce Patt, Elaine Lord, Chris Guerrero, Ken Billeci, Greg Evans, Brian Nakagawa. Seated, center: Robert Sprague, Mike Compton. Seated, bottom: Vahan Kachadorian, Michael Lee.
Soul Men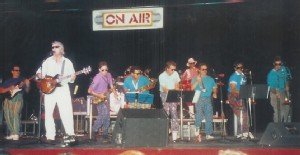 On Air performs a medley of "Soul Man" and "Knock On Wood" at Laxon Auditorium, Chico State College. L-R: Ken Billeci, Bob Lang, Mike Compton, Chris Guerrero, Greg Evans, Bruce Patt, Vahan Kachadorian, Brian Nakagawa, John Weir.
Bob and Bruce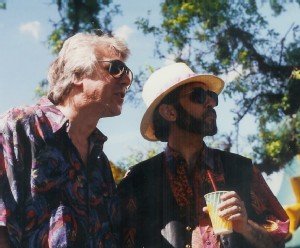 Bob Lang and Bruce Patt watch another band perform at the 1993 Dixon Lambtown Festival.