The Year 2000 Dilemma
The last new year's eve performance by On Air was on December 31, 1999 in Folsom. This was also the occasion of last performances with On Air for several members.
Fall Back and Regroup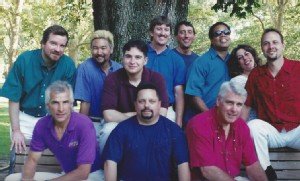 At the beginning of the new millennium, nearly half the band had been replaced. Plus adding a female vocalist made a significant change in the variety of music and appeal of the band. Back row, L-R: Greg Evans, Brian Nakagawa, Raul Sandoval, John Blake, Jack Stanfill, Jimmy Malone, Margie Stratfull, Dave Barbieri. Seated: Toby Kramasz, Vahan Kachadorian, Bob Lang.
Early Decade Lineup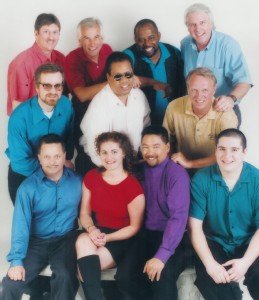 Back row, L-R: John Blake, Toby Kramasz, Willie Windmon, Bob Lang. Middle row: Greg Evans, Jimmy Malone, Tim Stephenson. Seated: Vahan Kachadorian, Crystal Craig, Brian Nakagawa, Raul Sandoval.
Crystal and Bob

Crystal and Bob relax between On Air sets at a 2004 Hot August Nights concert at Laguna Town Hall, Elk Grove.